Grande Ronde Hospital welcomes new Senior Director Provider Services
Corporate news
|
Tuesday, June 26, 2018
Contact: Mardi Ford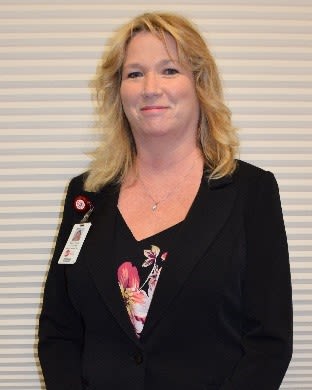 LA GRANDE – Grande Ronde Hospital is pleased to announce that Tammy R. Winde has been promoted to Senior Director of Provider Services, joining the Hospital's Executive Leadership team.
Winde has spent the majority of her career in the healthcare industry, starting as a pharmacy assistant. She eventually earned her Bachelor of Science degree in Radiographic Science, and went to work as a radiographer in Idaho. In 1979, she moved to Oregon to manage two primary care practices, before joining Grande Ronde Hospital in 2006.
During her career at GRH, Winde has worked as a medical clinic manager, a quality risk management coordinator, and an Electronic Health Record specialist. In 2012, she was promoted to develop, implement and manage new Patient Centered Care programs for the hospital. This endeavor has been highly successful and Winde has earned high praise across the system for her efforts.
"I am primarily focused on the quality of healthcare delivery in our region, and my diverse background allows me to see the dynamic factors that are involved in that delivery. I am excited to continue to serve the Grande Ronde Valley in accordance with the mission and values of the Grande Ronde Hospital and Clinics," said Winde, in response to the new promotion.
Winde replaces Paul Shorb, who transitions to an advisory capacity this July, before retiring later this year after 34 years of service to GRH.
###
Grande Ronde Hospital, Inc. is a state and nationally recognized and award winning not-for-profit health system that includes a 25-bed Critical Access Hospital and 12 outpatient clinics and one virtual care clinic. We are located in Union County, Oregon, serving our base population of more than 25,000 residents, as well as providing services for the greater Eastern Oregon region. Since 1907, Grande Ronde Hospital has led this region in efforts to stabilize and secure rural health care services for the communities we serve, while also working to improve the quality of life of all our residents. Today we employ more than 700 people, all dedicated to providing quality health care services to our patients. We offer a broad range of diagnostic, surgical and therapeutic outpatient services, a Level IV Trauma Emergency Services Department, a Family Birthing Center; Physical, Occupational and Speech Rehabilitation Therapy and Sports Medicine Services, and Home Care Services providing both home health and hospice care needs. We also operate 13 primary and specialty care clinics: the Cardiology Clinic, the Dermatology Clinic, the Elgin Clinic, the Hematology & Oncology Clinic, the Neurology Clinic, the ReadyCare (virtual) Clinic, the Regional Medical Clinic, the Sleep Clinic, the Specialty Clinic (General Surgery, Orthopedics & Sports Medicine, Otolaryngology (ENT), and Urology), the Walk-In Clinic, the Wound Care Clinic, the Union Clinic, and the Women's & Children's Clinic (Gynecology, Obstetrics and Pediatrics). For more information, please visit www.grh.org.