GRH Speech Language Pathologist granted a 1st Award for Continuing Education
Hospital news
|
Friday, August 3, 2018
Contact: Mardi Ford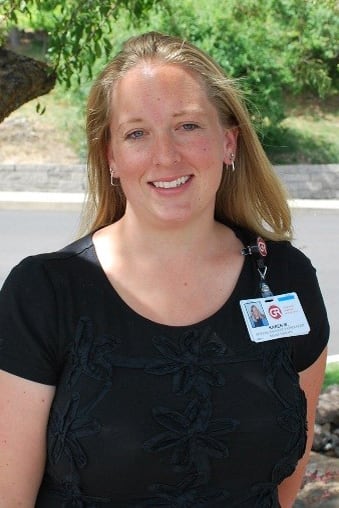 LA GRANDE - - Speech Language Pathologist (SLP) Karen Wing was recently granted a 1st Award for Continuing Education (ACE) demonstrating her commitment to professional learning beyond her academic degree.
Wing is a certified SLP for Grande Ronde Hospital (GRH) in the Therapy and Sports Medicine Department. Department Manager June Wilson, OT, received notification of Wing's achievement via a joint statement from the director and board chair of the American Speech-Language-Hearing Association (ASHA). The statement noted that Wing's personal efforts to continue her professional education put her into a select group of individuals who were being recognized by the organization.
"We certainly are proud of Karen. She is a wonderful therapist who is dedicated to providing the best, most up to date and evidence based care to her patients and her profession," said Wilson.
SLPs and Audiologists may meet the requirements of the ACE by earning seven ASHA Continuing Educations Units (CEUs) – equivalent to 70 contact hours in 36-month period. Credit toward the ACE must be earned within the three-year period; however, some individuals complete the requirements in less time and are awarded successive ACEs in less than three years.
Wing has been practicing speech therapy in Eastern Oregon since 2010. She graduated with honors from Oregon State University in 2003 with a Bachelor of Science in Public Health focusing on Community Health. She received a Master of Science in Speech Language Pathology from Idaho State University in 2010. She has worked with a wide range of patients including those with Parkinson's Disease, dementia, Alzheimer's Disease, strokes, neurological disorders, traumatic brain injuries, Multiple Sclerosis, autism spectrum disorders, developmental delays, articulation disorders, and swallowing disorders.
Over her career, she has provided speech therapy services in acute care, inpatient rehab, outpatient, long-term care, and school settings serving pediatric, adult and geriatric populations. She has been a full-time therapist with GRH since 2015, but worked for the organization four year prior to that in a part-time position.
###
Grande Ronde Hospital, Inc. is a state and nationally recognized and award winning not-for-profit health system that includes a 25-bed Critical Access Hospital and 12 outpatient clinics and one virtual care clinic. We are located in Union County, Oregon, serving our base population of more than 25,000 residents, as well as providing services for the greater Eastern Oregon region. Since 1907, Grande Ronde Hospital has led this region in efforts to stabilize and secure rural health care services for the communities we serve, while also working to improve the quality of life of all our residents. Today we employ more than 700 people, all dedicated to providing quality health care services to our patients. We offer a broad range of diagnostic, surgical and therapeutic outpatient services, a Level IV Trauma Emergency Services Department, a Family Birthing Center; Physical, Occupational and Speech Rehabilitation Therapy and Sports Medicine Services, and Home Care Services providing both home health and hospice care needs. We also operate 13 primary and specialty care clinics: the Cardiology Clinic, the Dermatology Clinic, the Elgin Clinic, the Hematology & Oncology Clinic, the Neurology Clinic, the ReadyCare (virtual) Clinic, the Regional Medical Clinic, the Sleep Clinic, the Specialty Clinic (General Surgery, Orthopedics & Sports Medicine, Otolaryngology (ENT), and Urology), the Walk-In Clinic, the Wound Care Clinic, the Union Clinic, and the Women's & Children's Clinic (Gynecology, Obstetrics and Pediatrics). For more information, please visit www.grh.org.