GRH Hospice earns recognition as Best Hospice Caregiver Satisfaction
Hospital news
|
Friday, August 11, 2017
Contact: Mardi Ford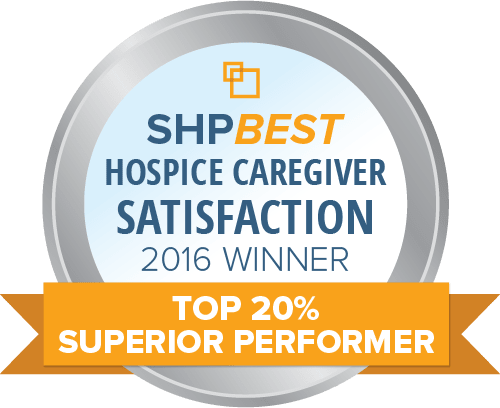 LA GRANDE – Grande Ronde Hospital (GRH) Hospice has been recognized at the national level for superior performance. GRH Home Health and Hospice Department manager Julie Parks, RN, received the good news in late July.
GRH Hospice reached the Top 20 in a Strategic Healthcare Programs (SHP) national survey for overall satisfaction in 2016 as measured by the caregiver's (i.e. patient spouses, family members, etc.) point of view. With an 89 percentile, they were just one percentage point from making the Top 10.
"It is an honor to be recognized for this prestigious award. Patient/Family and Caregiver satisfaction is a heartfelt priority for our team with a commitment to both quality and an exceptional patient care experience. Our philosophy is based on the personalized comfort and support of our patients and families during the final phases of life," said Parks.
The GRH Hospice team of experienced clinicians have been providing physical, emotional, spiritual and bereavement support to Union County families for more than 30 years. It is the only not-for-profit, state-licensed and Medicare-certified hospice and home care agency in the county.
GRH Hospice met the benchmark during its Hospice Consumer Assessment of Healthcare Providers and Systems (Hospice CAHPS) survey during 2016. Regular and routine Hospice CAHPS, HH CAHPS (Home Health) and HCAHPS (Hospital Consumer Assessment of Healthcare Providers and Systems) surveys are an integral part of Centers for Medicare and Medicaid Services' efforts to improve the nation's healthcare.
In the award notification received in July 2017, SHP President Rob Paulsson wrote, "The dedication, compassion and care that you show your patients is reflected in the feedback that has been provided by their caregivers via the CAHPS Hospice Survey."
Since 1996, SHP has been one of the nation's leaders in performance improvement for post-acute care providers. The program prides itself on healthcare data analytics and benchmarking that provide real-time, actionable performance metrics to impact daily decisions. SHP has helped organizations nationwide, from small rural entitiesto public companies, raise the bar for healthcare performance.
Grande Ronde Hospital, Inc. is a state and nationally recognized and award winning not-for-profit health system that includes a 25-bed Critical Access Hospital and10 outpatient clinics and one virtual care clinic. We are located in Union County, Oregon, serving our base population of more than 25,000 residents, as well as providing services for the greater Eastern Oregon region. Since 1907, Grande Ronde Hospital has led this region in efforts to stabilize and secure rural health care services for the communities we serve, while also working to improve the quality of life of all our residents. Today we employ more than 700 people, all dedicated to providing quality health care services to our patients. We offer a broad range of diagnostic, surgical and therapeutic outpatient services, a Level IV Trauma Emergency Services Department, a Family Birthing Center; Physical, Occupational and Speech Rehabilitation Therapy and Sports Medicine Services, and Home Care Services providing both home health and hospice care needs. We also operate 11 primary and specialty care clinics: the Cardiology Clinic, the Elgin Clinic, the Hematology & Oncology Clinic, the Neurology Clinic, the ReadyCare Clinic, the Regional Medical Clinic, the Sleep Clinic, the Specialty Clinic (General Surgery, Orthopedics & Sports Medicine, Otolaryngology (ENT), Urology, and Wound/Ostomy Care), the Walk-In Clinic, the Union Clinic, and the Women's & Children's Clinic (Gynecology, Obstetrics and Pediatrics).For more information, please visit www.grh.org.