GRH earns spot as one of America's Top 20 Critical Access Hospitals
Hospital news
|
Thursday, April 20, 2017
Contact: Mardi Ford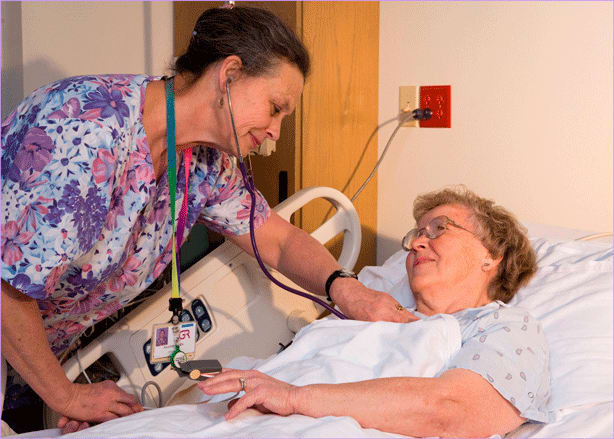 LA GRANDE — The National Rural Health Association (NRHA), Washington, D.C., has notified Grande Ronde Hospital that the organization has earned a coveted spot on their prestigious national list of the Top 20 Critical Access Hospitals for Overall Performance.
There are 1,332 certified Critical Access Hospitals (CAH) in the United States; 25 of them in Oregon. Meeting the criteria to make the nation's Top 20 puts GRH in the top 1.5 percentile of all CAHs in America. GRH is also one of only two from Oregon to make the 2017 list.
"An honor like this by a national association is particularly exciting for two reasons; first, ranking in the category of Overall Performance means we met high marks in all of the eight benchmarks, which reflects the efforts of every single one of our employees and volunteers. Second, being in the top 1.5 percent of all CAHs in the country is a significant achievement. It means we are doing the right things to keep healthcare services affordable and accessible in an increasingly complex regulatory environment within a rapidly changing industry," said Jim Mattes, CEO and President.
According to the 2016 Rural Relevance – Vulnerability to Value study conducted by iVantage Health Analytics, more than 60 rural communities have experienced the closure of their local hospital and the devastating loss of those medical services since 2010. In fact, the iVantage Hospital Strength Index, on which their Top 100 honors are awarded and from which the NRHA determines it's Top 20, are based upon data analysis developed to assess healthcare delivery in vulnerable populations, particularly those in small, rural communities. This is one reason iVantage chooses to annually single out those top performers successfully anticipating and navigating these challenges.
The 2016 study findings highlighted three key pressure points on rural care: Bad Debt Cuts (instituted under the Affordable Care Act to offset increasing coverage), Swing-bed Reimbursement Cuts (Federal rate reforms to equalize CAH reimbursements with alternative facilities), and the 2013 Sequestration of Federal spending cuts. Today, an additional 673 facilities are now considered at risk or vulnerable for closing.
In March, the Oregon Association of Hospitals and Health Systems (OAHHS) released an economic impact report on Oregon hospitals. It credits GRH with the creation of 1,043 jobs for the local economy either through direct employment or by the indirect impact of creating secondary jobs. Despite our not-for-profit status, GRH is a crucial economic engine for both the local and state economies. At calendar year-end 2016, our gross annual payroll of approximately $47 million for 710 employees had generated a Gross State Product (GSP) of more than $78 million for Oregon's economy and contributed $4.8 million in taxes, according to the OAHHS report. Today, we directly employ 720 people and are the second largest private employer in the county.
"A strong and independent healthcare system is so crucial to the quality of life we enjoy. We choose to live in a small, rural community and we all want a good quality of life. We work hard to do our part in that by providing access to the best medical care we can, but we also believe GRH is a vital cornerstone of Union County's socioeconomic health," said Mattes. "When so many other communities just like ours are in danger of losing their hospital, an honor like this is something of which we can all be proud. I believe it is a privilege to care for our community in many ways, and I hope our community will join us in celebrating this achievement."