GRH Announces CEO Mattes Retirement Plans
Hospital news
|
Friday, April 6, 2018
Contact: Mardi Ford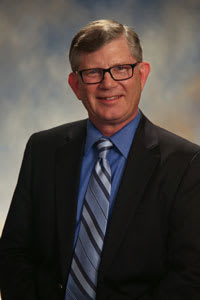 LA GRANDE -- Grande Ronde Hospital, Inc. (GRH) Board of Trustees (Board) has announced that President and CEO Jim Mattes has previously informed the Board his intention to retire by mid-2019. This news was first shared with GRH employees in March.
"This is a planned retirement," said Board Chair Brad Trisler, "and we have been working with Jim to develop a succession plan for a smooth transition. Together, we are moving forward with the services of a proven, national recruitment firm with broad experience at this level of administrative expertise. They are working to find suitable candidates for our consideration." The Board also expressed its admiration and gratitude for Jim and his more than 34 years of strong leadership and dedication to GRH and the local community. Mattes has led the organization through significant growth and many industry changes. Under his leadership, GRH has grown in staff, services, and locations. More significantly, under his leadership GRH has remained financially strong and independent.
"Jim continues to serve in full capacity as President and CEO while a search for his replacement is underway," added Trisler. "It is the Board's priority to find not only a skilled and experienced administrator, but a leader who will put our future and independence first while honoring the past and our efforts, for more than a century, to lead in providing the best health care to the region."