GRH Welcomes 2019 New Year's Baby
Hospital news
|
Friday, January 4, 2019
Contact: Mardi Ford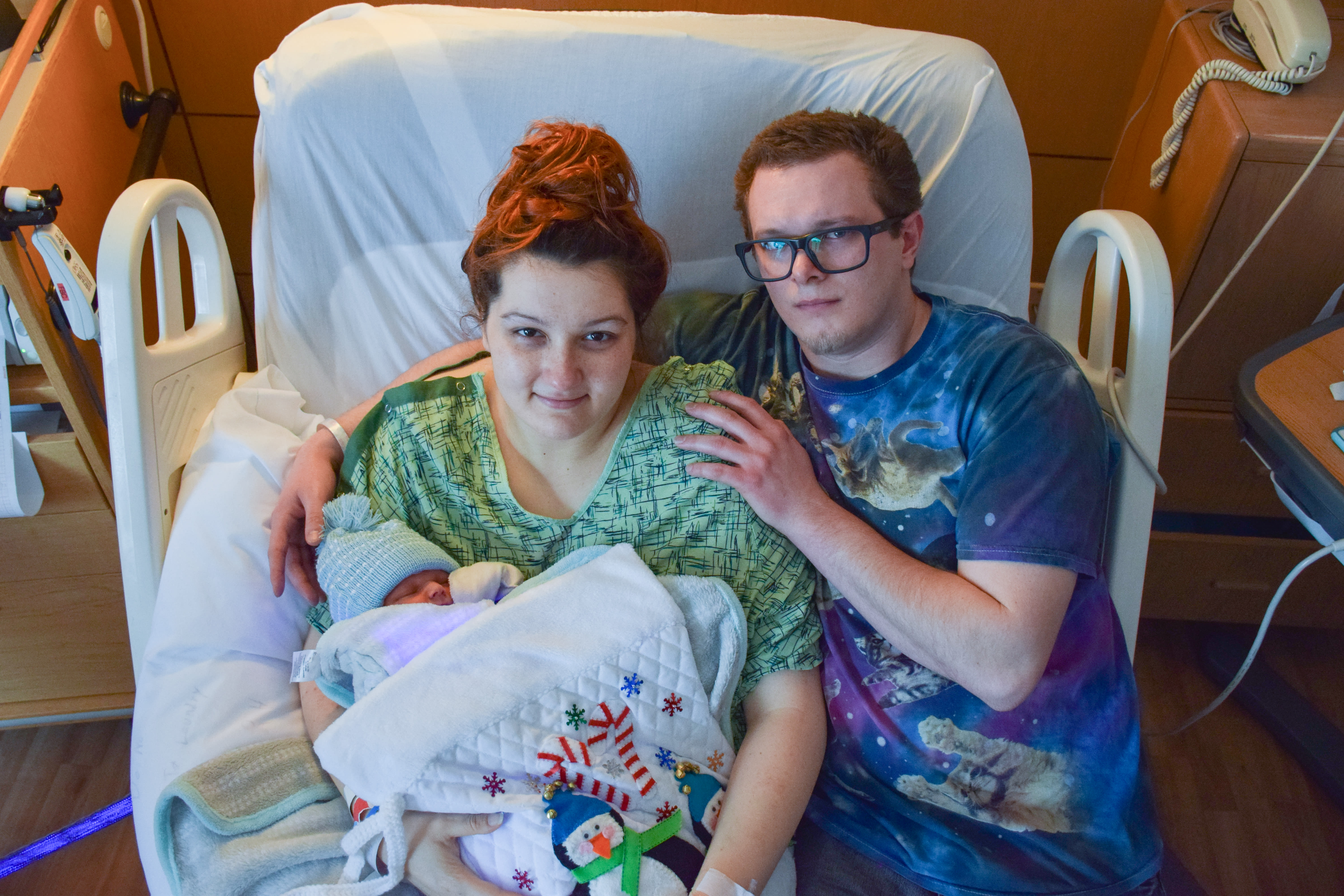 LA GRANDE - Jessie Pierce and Nick Smith welcomed baby boy Atlas Reign Smith at 12:50 a.m. on January 3 at the Grande Ronde Hospital Family Birthing Center. Atlas was the first baby born in the Hospital, making him the 2019 New Year's Baby. He weighed eight (8) pounds seven (7) ounces, and measured 19 ¾ inches long.
To honor his special arrival, Atlas was gifted a one-of-a kind white stocking handmade by the GRH Auxiliary Sewing Committee, a handmade quilt from the Quilt Questers, as well as diapers and a gift basket filled with supplies from the GRH Auxiliary. Atlas and his parents were presented with their gifts on the afternoon of January 4 by Auxiliary President Kay Dick and Gift Shop Manager Diane Higley who congratulated the family on behalf of the Auxiliary and Grande Ronde Hospital.
___________________________________________________________________
Grande Ronde Hospital, Inc. is a state and nationally recognized and award winning not-for-profit health system that includes a 25-bed Critical Access Hospital and 12 outpatient clinics and one virtual care clinic. We are located in Union County, Oregon, serving our base population of more than 25,000 residents, as well as providing services for the greater Eastern Oregon region. Since 1907, Grande Ronde Hospital has led this region in efforts to stabilize and secure rural health care services for the communities we serve, while also working to improve the quality of life of all our residents. Today we employ more than 700 people, all dedicated to providing quality health care services to our patients. We offer a broad range of diagnostic, surgical and therapeutic outpatient services, a Level IV Trauma Emergency Services Department, a Family Birthing Center; Physical, Occupational and Speech Rehabilitation Therapy and Sports Medicine Services, and Home Care Services providing both home health and hospice care needs. We also operate 13 primary and specialty care clinics: the Cardiology Clinic, the Dermatology Clinic, the Elgin Clinic, the Hematology & Oncology Clinic, the Neurology Clinic, the ReadyCare (virtual) Clinic, the Regional Medical Clinic, the Sleep Clinic, the Specialty Clinic (General Surgery, Orthopedics & Sports Medicine, Otolaryngology (ENT), and Urology), the Walk-In Clinic, the Wound Care Clinic, the Union Clinic, and the Women's & Children's Clinic (Gynecology, Obstetrics and Pediatrics). For more information, please visit www.grh.org.
# # #