Facilities Expansion Project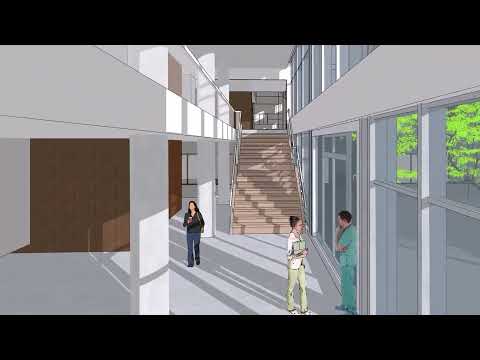 Construction traffic reroutes to North and South Campus
Thank you for your patience as we work to build the future of health care in Union County. During construction, access to our services on campus have changed. Please click on the thumbnail to see the full reroute map.
Statement on New GRH Campus Facilities Expansion
On January 26, 2022, the Grande Ronde Hospital and Clinics (GRH) Board of Trustees (BOT) approved a plan to move forward with a significant expansion of our hospital building. Over the past three years we have evaluated and refined our Master Facility Plan with an initial strategic focus on our operating rooms (ORs).
With our success these past few years in recruiting more primary care providers as well as physicians with surgical privileges to our team, our surgical services volumes have continued to grow. We have outgrown the space currently occupied by our ORs and procedure rooms. In addition, GRH has known for several years that we would need to address state code compliance within the ORs by the year 2028 or seek an extension. We chose to address it now.
"This new expansion will empower GRH to continue recruiting and retaining providers, which supports our efforts in providing expanded services to our community," said BOT Chair Teri Champlin.
For the past couple of years, GRH has worked with national consultants and healthcare specific architects, while leveraging data-driven tools to determine the scope of this new build. We asked our surgical services staff for input and feedback, and conducted four onsite visits to other regional hospitals in order to help us understand what worked well for them and what they wish they had done differently.
All of these efforts were undertaken to help us design and build a facility we will be proud of for generations to come, while also solving the space constraints and current patient and process flow limitations we face. This expansion will also provide us with some additional space for future options; an important consideration when looking at our current campus.
"With more than a century of caring for the citizens of Union County and beyond, this investment will strengthen our ability to continue that legacy for future generations. It is also a testament to our wonderful providers and staff, as well as the strong community support we have received," said GRH President and CEO Jeremy Davis.
The target date to begin construction is anticipated as early as summer of 2022, with a completion date in 2024. Some of this timeline may change, as this is a complex and multi-faceted project. We look forward to keeping our community up to date as decisions and changes continue to be made moving forward.
Building for the Future
Grande Ronde Hospital and Clinics has begun work on an exciting new construction project on the hospital campus. At approximately 98,000 square-feet, the building's main function is to house new operating rooms that must be built. This new surgical services space will provide greater privacy and satisfaction for GRH patients. It will allow us to bring all surgical services together: patient check-in and pre-op, waiting rooms, operating and procedure rooms, and post-op recovery; as well as space for those departments that support surgical services and needs. We believe this facility will positively impact the future growth and economic stability of Union County.
Due to the scope and magnitude of a project of this size, beginning June 20th, the City of La Grande has approved rerouting vehicle and pedestrian access for the portion of Sunset Drive that runs in front of our property between the corners of H and K avenues. This will not adversely impact emergency or patient access to the main ER or hospital entrance or impact patient access to GRH clinics on the south campus, as shown on the reroute map.
Because our primary concern is the health and safety of our community, there will be no throughway for vehicles or pedestrians along Sunset Drive between H and K avenues during the construction phase of approximately two years. GRH has worked to anticipate and consider every impact this expansion project may have on our community, and specifically those that potentially impact our immediate neighbors. We reached out to those property owners directly adjacent and closest to the GRH campus. On May 27th we mailed them a detailed packet of information and an invitation to meet with President and CEO Jeremy Davis to discuss any concerns or questions.
In addition, our leadership has been working with local government, emergency and community partners to develop alternatives and mitigate any inconvenience to the public. To that end, we have also worked with the La Grande School District to ensure community access to the pedestrian walking path that was installed on the west side of the School's new track and runs across their property between H and K avenues.
Vehicle traffic will be rerouted as follows:
• Emergency Medical Services (EMS) traffic is coordinated to reroute around the Sunset Avenue closure between H and K avenues.
• Patient traffic will be rerouted via digital/mobile signage at the corners of C Ave and 4th Street, and N Ave and 4th Street.
• South Campus will be accessed via C Ave to Sunset. South Campus includes our Women's & Children's Clinic, the Specialty Clinic, Therapy & Sports Medicine, Dermatology, Neurology, Wound Care, and the Sleep Clinic.
• Main Hospital will be accessed via N Ave to Alder. Main Hospital includes the Emergency Services, Imaging, Cardiology Clinic, Respiratory, Oncology, Infusion, Lab and Out-Patient Surgery.
• GRH employees will follow the same routes to access on-campus employee parking.
GRH is hoping for our community's support and patience, as we anticipate what this project will mean for improving patient care here at home, as well as the opportunities a state-of-the-art facility like this will bring to Union County and the broader Eastern Oregon region we serve.
Gallery